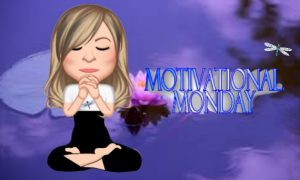 Yes, sometimes even the "motivator" needs positive encouragement and feedback to be motivated.  So, here, on this "Motivational Monday," I'm asking my followers to do 2 things:
Motivate ME – either by 'liking,' or posting a  happy face, or, even better, by engaging and telling me which articles you enjoy the most.  Is it MY favorite – SUNDAY SHOWSTOPPER SNIPPETS?  Maybe you love the Motivational Mondays, or Tuesday Travels.  Do you collect or try the posted recipes from Wrecipe Wednesday?  Are you LOVING the Foto Friday posts or the Cinema/Serenade Saturday posts?  Maybe it's the Saturday Shopping that catches your eye.  PLEASE, let me know that you are out there!
Ask to be Motivated – sometimes it's hard to ask for feedback or help with motivation.  Well, now is your chance!  What have you wanted to do that you are hesitant to begin?  What are you currently doing that seems to be unnoticed that you'd like some feedback on?  Let us know!